Details
Contact Us
F.A.Q.
Links
Nothing
Here's a Thought
Nothing
Just when you thought it was safe to never read again...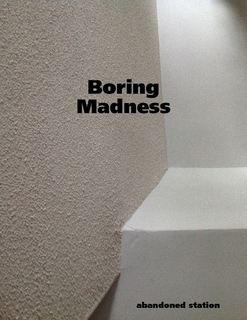 BORING MADNESS (by abandoned station...us)
Here's a novel. A real book. In digital form for now. Four almost-lovable losers have their lives turned upside down when they drunkenly find a dead body in a ditch and don't exactly know to deal with it. Things crumble, drift, get weird, explode, etc.
Good fucked up fun for all.
You can buy it for $5 at lulu.com.
Or apple ibookstore, or NOOK, kindle, kobo, etc. But we're too lazy to put those links here.
There's no truths to fall back on. There are only truths to stand up for.